Some US$22 trillion new global energy investments are needed in all stages of the energy supply chain to power the global community for the next two decades until year 2030.

International analysts observe: the global energy demand is projected to shoot up by 55 percent, according to the International Energy Agency's (IEA) most recent World Energy Outlook.

And more of IEA's facts: that some $118.9 million appropriation is allocated for the US Department of Energy's carbon sequestration program, with a pending budget request of $149 million carbon capture and storage (CCS) , a technology that is indispensable in dealing with concerns about energy and climate.

The US government committed to the goal of stopping the growth of carbon dioxide and carbon dioxide-equivalent greenhouse gases by year 2025, and thereafter, to reverse it : an objective which further underscored its 2002 commitment to reduce the carbon intensity of the US economy by 18 percent by 2012.
All these efforts lead to the US Energy Departments' positive pronouncements, amidst the worldwide economic crisis:


"Robust investments in advanced technologies and global cooperation to advance alternative energy sources benefits the international community by enabling developing nations to "leap-frog" over some of the prevalent and dirtiest fossil-fuel-based technologies to a diversity of cleaner energy options to power economic growth."
This year, top government officials worldwide, heads of global organizations, leading environmentalists and the largest international investors meet to discuss, debate and plan the future worldwide alternative energy in a myriad of summit events in different parts of the globe.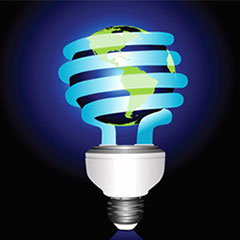 The 2009 Asia-Pacific Clean Energy Summit & Expo will be held on Aug 31-Sept 2, 2009 (www.asiapacificcleanenergy.com) in Honolulu, Hawaii; Missouri's Energy Summit (www.missourisummits.com) is set April 22-23, 2009.

And there's more:
Wall Street Green Trading Summit VIII
happens in New York City ;
Wind Energy Operations & Maintenance Summit
in Dallas, Texas;
European Renewable Energy
in Berlin, Germany ;
Biogas 101 for Electricity and Heat
in Minneapolis ;
5-th EE & RES Congress and Exhibition
in Bulgaria ;
PV KOREA 2009
in Korea ;
Shanghai International Wind Energy Exhibition & Conference 2009
at the Shanghai New International Expo Center ;
International Green Energy EXPO Korea 2009
;
The 6th China International Solar PV Exhibition
;
RENEXPOR Central Europe 2009
in Budapest ;
EE Global Paris Expo 2009
in France;
2nd Concentrated Photovoltaics Summit
in Toledo, Spain ;
WINDPOWER 2009 Conference & Exhibition
in Chicago ;
THIN FILM SOLAR SUMMIT
in Berlin ;
GIL 2009: Europe
in London ;
All Energy 09 Exhibition & Conference
in Aberdeen, Scotland ;
ESTEC 2009
and
The Solar Future
in Munich, Germany ;
Clean Energy Expo Asia
in Singapore ;
3rd International Conference Solar Air-Conditioning
in Palermo, Italy ;
Renewable Energy World Asia
in Bangkok, Thailand;
POWER Bangladesh 2009
in Bangladesh ;
Solar Power International
in Anaheim, California.
The list is endless.

The summits come on strong as catalysts to change, international and regional enablers , active platforms for senior policy decision makers and global leaders in initiating and accomplishing worldwide reforms on alternative energy, big investments and high-level business deals, and global projects on sustainable energy systems.

Unlimited and vast financial investment opportunities , frontrunning international efforts to expand the global market for sustainable and renewable energy, everything up for grabs in these auspicious gatherings.

Summit delegates look forward to developing local energy sources , focusing on their quest for energy security, intensifying their engagement with governments and development financial institutions to encourage business and finance models and increase the chances of investments in sustainable energy infrastructure, offering additional possibilities for global exchange within the renewable and energy efficiency sectors.

Further, the call is on for both industrial and scientific communities and also the public forces to join the efforts to surmount the still existing or new arising barriers and obstacles in the quest for alternative energy sources , and to meet the challenges for achieving a fast breakthrough to market applications .


The worldwide alternative energy summits offer a platform among the best global industry experts, influential leaders and the biggest decision makers in the international business community as they map out action plans, objectives and goals to confront the challenging demands for for sustainable and global energy, discover technological advancements and possibilities about the entire spectrum of alternative energy and energy efficiency technologies, and what is in store for the global market as it thrusts forward in the exciting and progressive 21st century.

Meantime, University of Western Sydney's solar energy banner says it all, giving us some valuable food for thought for our 21st century future.