You may have heard it in the news, and may have ignored it at some point. And then you hear it again, and again, and again.


Seems like there's no stopping them.

We're talking about these young kids from the Philippines, besting them all, bagging the plum awards in international competitions, making their mommas proud, and yes, making the Philippines proud.

Up close, these are veritably fresh-from-babyhood young whizzes , waddling away in their fresh gradeschool years of milk teeth and baby fat, blabbering what seems like juvenile gibberish, but harrumphing and wheezing their way into worldwide recognition in the field of science and technology.
Check out the videos: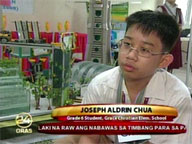 RP students win at World Robotics Olympiad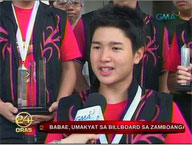 RP students win in robotics competition



Last November, it was the Grace Christian High School gradeschool kids led by Grade 6 student Joseph Aldrin Chua and Grade 5 students Edrich Hans Chua and Dominique Hannah Sy
, young Filipino-Chinese geniuses who wowed them all in Yokohama, Japan , bagging the Silver Award in the 2008 World Robotics Olympiad, with the theme
"Green Whiz Community and the G-Tech Robot Engineering a Better World."


Their winning entries:


"A lightweight hydrogen car, H2O Treatment Robot which is designed to filter waste water fr om a factory for safe disposal, E-Sorter, a robot that sorts biodegradable and non-biodegradable garbage using color coding of container ; Paper Recycling Area (PRA), a factory robot that recycles used paper into something usable; Iced Sub-Zero Robot, a robot that makes melted ice in the polar region back into ice form; and Forest Surveillance Robot, a robot with a built in camera that guards forests and waterfalls from illegal loggers and hunters."
Other Filipino high schoolers, this time from the Benigno Aquino High School and the International School of Manila in the Open Category of the High School and Primary Levels, bagged sixth place of the same international robotics event.
Science Education Institute (DOST-SEI) Director Dr. Ester B. Ogena said the Philippine team's triumph is "proof that Filipino students could be at par with pupils around the world ... Our students have shown their best and given more opportunities like these, we could tap more potential in the field of robotics."


And this April, hugging the headlines, once again, are young Filipino geniuses showing the whole world what they've got.
With their Pinoy-made robot
Larry Labuyo
( Labuyo is Filipino for "wild rooster" ) created by the 43-man Philippine team

Team Lagablab

-- composed of Filipino high school students from the
Philippine Science High School Main Campus (PSHS), and mentors from the SEI (Science Education Institute of the Department of Science and Technology) , the De La Salle University and the University of the Philippines -- they proved to the international community that more and more Filipino talents are out to prove that there's more guts, chutzpah and resounding bravado to this very much underrated brown race.
Larry Labuyo and Team Lagablab ( Team Flame), the only Southeast Asian to compete in the
FIRST Robotics Competition held in Hawaii,
bagged the
"Rookie All Star Award" and the Highest Rookie Seed Award," besting 33 high schools from the United States and Mexico, according to the official FRC website and DOST. These Filipino kids won over their competitors from
Brazil, the US, Canada, Germany, Great Britain, Israel, Mexico and Turkey.
FIRST stands for
For Inspiration and Recognition of Science and Technology
, a US-based organization founded by inventor Dean Kamen in 1989 aimed at inspiring young people's interest and participation in science and technology.
The Hawaii regional event – held from March 26 to 28 – is one of the 42 regional competitions participated in by high schools students from Brazil, the US, Canada, Germany, Great Britain, Israel, Mexico and Turkey. Winners for each regional event would advance to the final round to be held in Atlanta, Georgia from April 16 to 18.
Before leaving for Hawaii, PSHS Elmer Dadios explained during the launching of "Labuyo" at the PSHS campus in Quezon City in February that his team had shelled out P2 million to construct the robot.
Standing at exactly four-feet, Labuyo was programmed and designed by a group of third year PSHS students from materials available in hardware stores.
"We have found in Hawaii a treasure trove of talents and I am sure that there is more to tap in the Philippines. We have truly shown to the world that we can do it and we can make it big in international competitions, especially in robotics."
Sounds like a whopping slambang double whammy.
By 2010, the World Robotics Olympiad takes place in the Philippines, and so our young Pinoy geniuses are getting ready.
DOST-SEI's Ogena says:
"Preparations are underway for this grand event and we are very excited with the privilege that we would be hosting the WRO two year s from now... The WRO is a good training ground for future engineers who would to improve the way of living in the world through robotics. Our end goal in supporting the WRO is to entice our students to venture into science careers and beef up the critical mass of scientists and engineers our country needs."

Meantime, our Hawaii winning rookies, Team Lagablab, also gears up for the final round of the FIRST Robotics Competition Championship, set to compete with other regional event winners for the "final countdown" in Atlanta, Georgia this mid-April.

Go Team Lagablab! Go young Manila Futurists!